Porterville Quilt Club
2019 UFO (Unfinished Fabric Object) Challenge Rules
1.  An Unfinished Fabric Object is defined as any fabric project begun or planned that is not completed regardless of size.
2.  Quilty projects must be quilted and bound.  All other fabric projects must be finished.
3.  Be as specific as possible when describing your project on the contract.
4.  Make a copy of the contract for yourself.
5.  Bring and present your completed UFO project during
Show and Tell to qualify.
6.  Pick up and complete a "Completed UFOs" form each month and turn in after Show and Tell to Sheri Cates or Lois Cates.
7.  For each completed and presented item, you will receive a gift. 
8.  All UFO contracts must be emailed (sme_93258@yahoo.com) OR turned in by the March  meeting.
9.  Pledge to complete your projects in a nine month period – March through November.
Let's get those UFOs out of our closets and get them finished!
Mystery Quilt  

What is the Mystery Quilt??  I don't know, you have to make one to find out! 
Each month you will get instructions. You follow the instructions and the quilt will eventually be finished.  Mystery Quilts are to be kept secret, of course, or else the mystery is no longer. That's the fun.
The finished quilts will be revealed to all at the November meeting. The best part of participating in the Mystery Quilt project is that even though it is the same pattern and instructions, each quilter uses their own fabrics so they are the "same, but different"!
Thanks to everyone in advance for participating.


Cradle Quilts Challenge

Come join the challenge completing cradle quilts!  Each completed cradle quilt will earn you one ticket. The calendar quilt set shown below will be raffled off from the tickets at the November meeting. 
If you would like a kit or batting to make your own quilts, call Noeleen.  Please use colors that little girls between the ages to 2 to 8 would like.  The size should be at least 18 inches and no bigger than 20 inches square.
Join us on the 4th Tuesday of the month at Calico Mermaid for workshops making the quilts.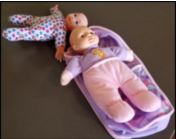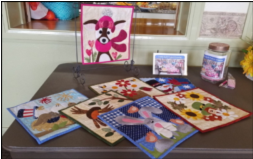 Please contact:
Noeleen 789-4922
 or
Sally 972-4467
Vice President's Challange 2019
The 2019 Vice President's Challenge invites club members to apply their quilting skills to exemplify the many ways in which Mother Nature shows her true colors. Mother Nature rejoices throughout the year and causes us to rejoice in turn. Your challenge quilt will demonstrate how Mother Earth rejoices and in turn provoke a joyous response in your audience.
Your challenge quilt:
•           Must feature a tree
•           May be no larger than 36" x 36" and
•           No smaller than 12" x 12"
•           Can be made using any technique/ method, including (but not limited to) traditional, art, applique, modern or combination
•           Must feature a quilt 'sandwich' and
•           Cannot be a bag, nor contain panels or parts of panels